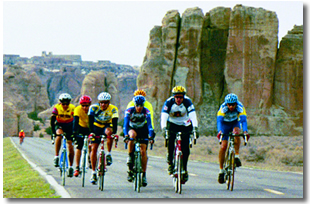 Tour de Acoma is a 100, 50 and 25-mile bike challenge covering some of the most breathtaking lands on the Acoma and Laguna Pueblo reservations. An all-paved course that offers both the experienced and recreational cyclist a challenging and rare opportunity to ride through normally restricted tribal lands, this competitive course features opportunities for high speed racing as well as defying uphill endurance tests.
* * * RESULTS NOW AVAILABLE FOR TOUR DE ACOMA 2015! * * *
Click here for CCR Timing Company Link!
For additional information you can contact Melvin Juanico at mjuanico~lksjdf~skycity.com or 505-552-7869.
* TOUR DE ACOMA 2015 *
Join our 14th Annual Tour de Acoma event page on facebook to stay updated on everything #TDA2015.
Contents ©2015 Tour De Acoma. Website programming by Jim Ahrend.