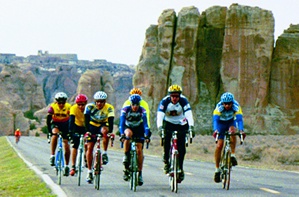 Tour de Acoma is a 100, 50 and 25-mile bike challenge covering some of the most breathtaking lands on the Acoma and Laguna Pueblo reservations. An all-paved course that offers both the experienced and recreational cyclist a challenging and rare opportunity to ride through normally restricted tribal lands, this competitive course features opportunities for high speed racing as well as defying uphill endurance tests.
Registration is open!
17th Annual  Tour De Acoma
September 16, 2018
Thank you to
all who participated in
Tour De Acoma 2018!
* * COMING SEPTEMBER 15, 2019 * *
18th Annual Tour De Acoma

Click for PDF FLYER!
For additional information contact:
Melvin Juanico - mjuanico~lksjdf~skycity.com (505) 552-7861  
* * * * *
Like our 17th Annual Tour de Acoma page on facebook to stay updated on everything #TDA2018.
THANK YOU
TO ALL OUR SPONSORS!
Please visit their websites!
Contents © 2019 Acoma Business Enterprises.